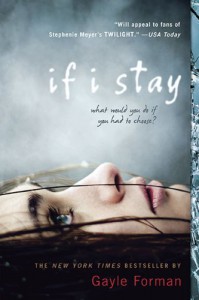 If you want to read a book that seizes your heart, this is the right choice for you. It has the ability to cause a lot of feelings, like love, happiness, anger, sadness… Gayle Forman makes sure you have a connection to Mia, the protagonist of the story.
I decided to read this book because I watched the trailer, and when it said it was based on a novel… well, I couldn't resist. And I'm glad I didn't, because I really enjoyed this book. Is really short, and easy to read, but so beautiful.
It is about this 17 year old cello prodigy that has an accident with her family and she is the only survivor. While she is in a coma, her spirit roams the hospital and she gets to see her family, friends and boyfriend, and how they are dealing with this situation. That's when she realizes that it is in her power to make the decision to leave or return your body to continue living despite having lost his family.
So the book is written like this: each chapter is divided in two, the first part is about what is happening in the present in the hospital. And the second is about something that happened in the past with her family and friends, and that way, you get to know why they are so important to her, that way you create a connection with the characters and you get to understand their feelings… their love, their pain… everything.
I really recommend this book, like I said, short and is easy to read and really enjoyable.
Now tell me, have you read this book? Are you gonna watch the movie?